Therapy centre for handicapped children
Meknes - Morocco
Integrity
We promote honesty in human relationships and in our associative management.
Compassion
We love the children and their families, and share their fight.
Commitment
We want to fight so that the children can do things by themselves again, grow up and progress.
Solidarity
We welcome all the children indiscriminately and we help them in their difficulties.
Nichan centre is a nonprofit organization, founded in 2006 to respond to the challenge of access to healthcare for handicapped children in the city of Meknes.
Allow a better accessibility to healthcare
Favoriser l'autonomie des enfants
To help them overcome any kind of discrimination so that they can fully live in the society according to the respect of human rights.
IT IS INTENDED TO BE A PLACE:
D'apprentissage et de formation pour les parents accompagnant leurs enfants afin de poursuivre les soins à la maison.
D'encouragement, d'entraide et de solidarité
To restore hope to children and their families in their struggle!
« As we had helped develop many Children's Therapy Centers in Morocco, we wanted to help the families in the "Old Medina" of Meknes. A great house in the medina became available. After doing many renovations to make the house safe and comfortable for the children and families we began to register families in the spring of 2007.
We were surprised at how many families quickly came and brought their young children who had a variety of physical challenges such as cerebral palsy. We started with Samira who was a great trainer of early intervention therapy and has done wonderful work for all of these years.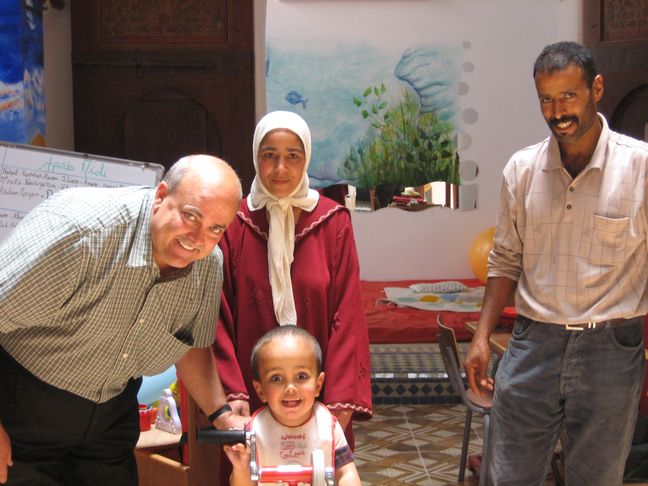 Nichan means to go « straight » in directions, Be an honest straightforward person. So we wanted to have a center with a « Nichan reputation » and lovingly seek to straighten (help the limbs of our dear children become more « Nichan »).
Parents were attracted to our center because of the « loving atmosphere », « priority on training parents for their work in the home with their child », « very low cost or donation » and « high quality work » centered on « play therapy » by our women who provide the therapy.
Bachir and Sofia have done excellent work at leading the center since the fall of 2010.
Nichan Center has been blessed by so many people involved and helping give financial donations to keep the charity going since 2006 ».
Avec compassion, engagement, persévérance et respect de la personne, les kinésithérapeutes Samira, Sanae, Souad, Naima et Fouzia, font de leur mieux pour apporter les soins nécessaires aux enfants, accompagnées de Majda et Jihan, personnel d'entretien. L'équipe est encadrée par Bachir et Sofia, responsables du centre.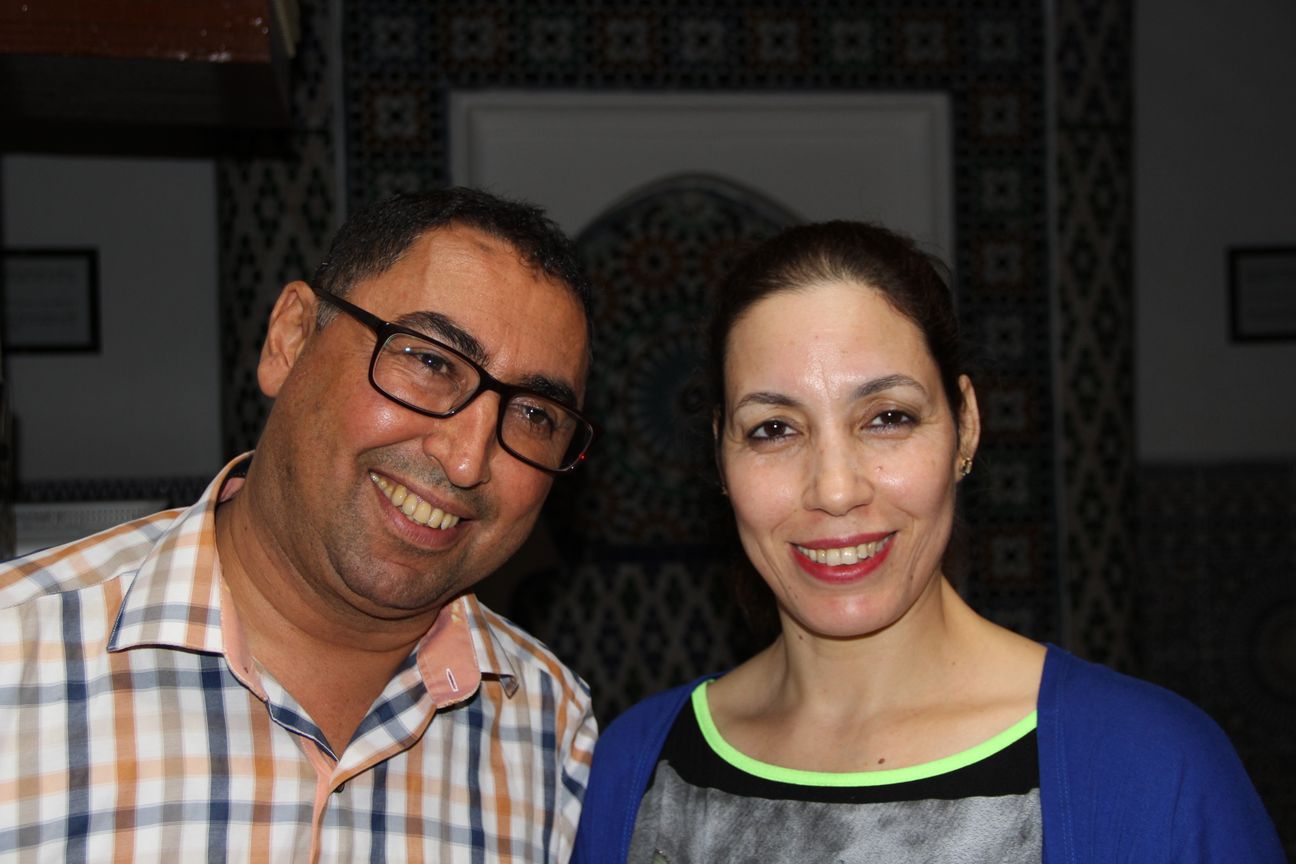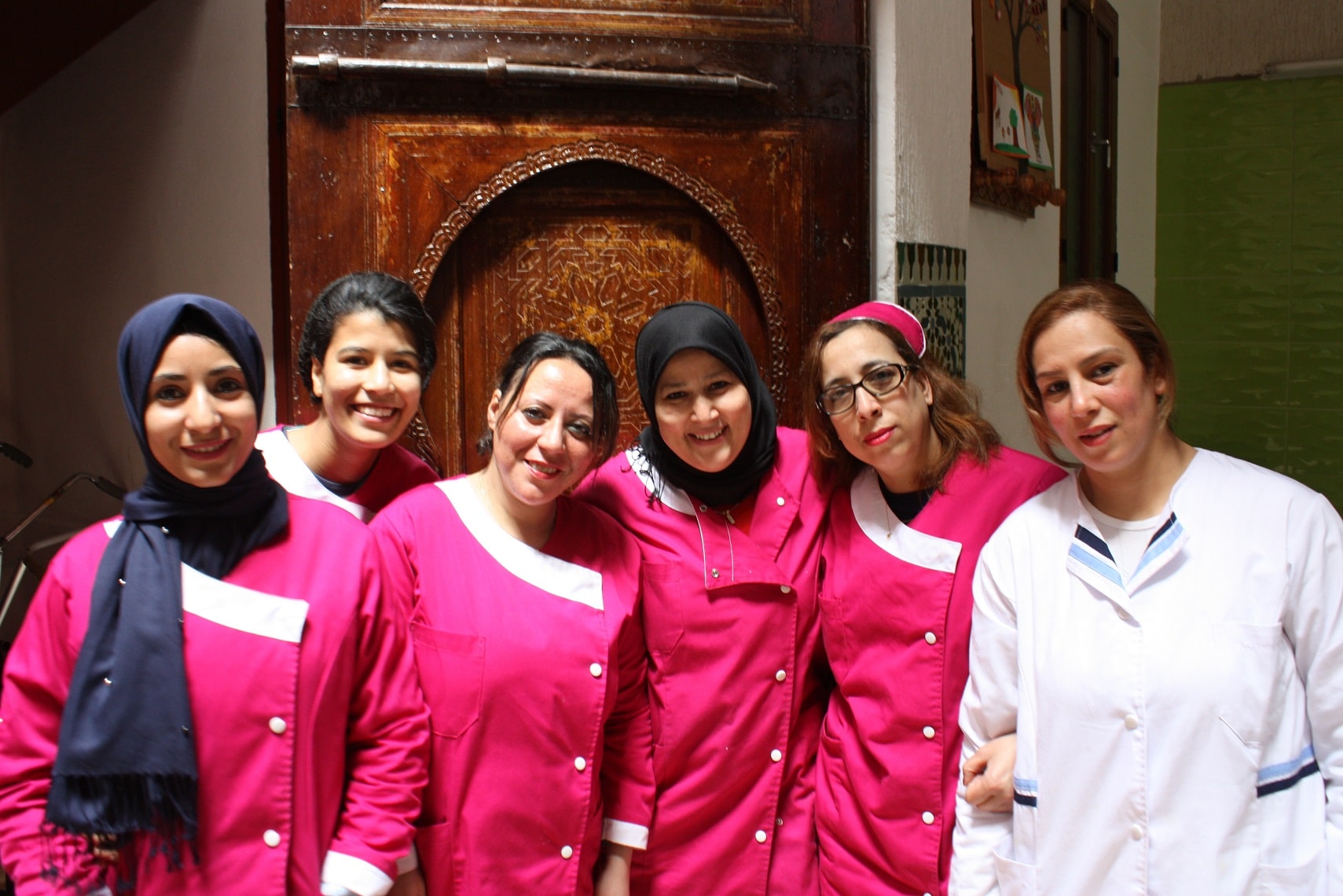 Naima, Fouzia, Sanae, Samira, Souad, & Majda                               (from left to right, Jihan missing)